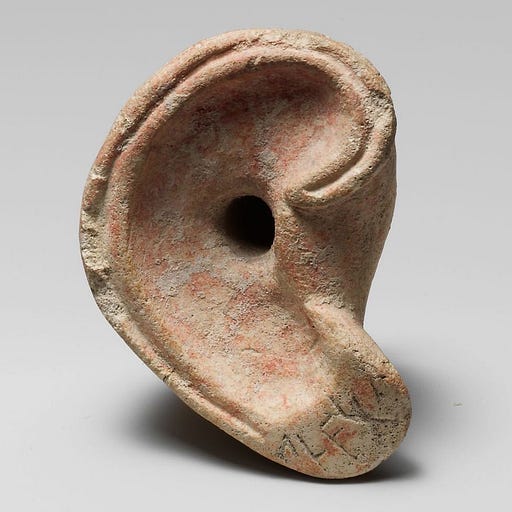 Jun 22, 2022 • 23M
Episode 2: Wendy Xu's Agitated Bouquet of Ideas
Revision and randomized arrangement in "A Sound Not Unlike a Bell"
Welcome to Multi-Verse, a podcast that offers a listening space for poems usually confined to the page. With host Evangeline Riddiford Graham, poets read and discuss their writing, and unwind the multitude of meanings contained in every verse.
Dear Ears,
You're in for a treat.
In Episode 2 of Multi-Verse, the poet Wendy Xu joins me to read and discuss her poem "A Sound Not Unlike a Bell."
The poem opens with a dream: a narrator arranging cut flowers as if her life depended on it. "There's no point in talking of how time passes in a dream," she notes: "I worked for minutes / Perhaps I worked for years."
Listening to Wendy read "A Sound Not Unlike a Bell" is to enter the compressed and stretched time space of dreams, thought, and multi-generational memory. A family relocates from China to the United States in 1989, just days before the events at Tiananmen Square. Years later, the unnamed protestor "Tank Man" returns as an internet GIF. Hard-won financial stability brings cut flowers; DuPont and Dow Chemical merge and split. And a mother offers her daughter a benediction that looks both forward and back:
She says look at your soft white hands
They're perfect she says you are perfect
May you never shove them down firmly into the farmed earth and pull up a root vegetable
May you never flex them to delay atrophy
May you never sweat in an unbecoming way or see the past the way we remember
---
You can find the episode and subscribe to the episode by clicking on one of the buttons below, or by searching "Multi-Verse" in your podcast app.
---
To read the full text of "A Sound Not Unlike a Bell," please pick up a copy of Wendy's dazzling new book, The Past (Wesleyan University Press, 2021), available for purchase here. It's one to return to again and again.
Listen deeply, long, and well,
Evangeline
---
Multi-Verse is a poetry podcast hosted and produced by Evangeline Riddiford Graham. To hear more poets read and discuss the poems they don't usually read aloud, subscribe to Multi-Verse at Spotify, Apple Podcasts, Pocket Casts, SoundCloud, or visit multiversepoetry.org.
New to this newsletter? Click here to receive monthly Multi-Verse updates.